Strong Girls Strong Zambia Campaign Gets a Boost from Hilton Garden Staff
World Vision Zambia remains committed to ending child marriage and promoting the well-being of girls in the country.
For this reason, the 'Strong Girls Strong Zambia' campaign was launched in September 2022, with a call to organizations and individuals to support the cause.
The employees of Hilton Garden Inn in Lusaka heeded that call and organized themselves to donate to the campaign.
Today, they have donated six thousand Kwacha of their own money to World Vision Zambia.
The K6,000.00 donation will support five girls in Nyimba district of Eastern province with education requirements and offer them internships when they complete Grade 12. Three girls are in Grade 8, and two are in Grade 10.
Handing over the cheque, Hilton Garden Inn General Manager, Kudzayi Nheweyembwa, said the team was moved by the 'Strong Girls Strong Zambia' campaign and decided to donate.
"These are our girls if I can put it that way. They are part of us. They are not different from our daughters, cousins, and sisters. We just happen to be born in a different districts. We thought it was a good opportunity to get involved. So, we invited our team and staff in the hotel (we've got about 90 staff) to donate their personal funds towards 'Strong Girls Strong Zambia.' We started the campaign and ran it for about two months. Around 40 of them came and donated out of their pockets. This is not a corporate donation. It's a personal donation. We are very proud to make our first but certainly not last donation to 'Strong Girls Strong Zambia", he said.
And World Vision Zambia Chief Executive Officer, John Hasse, thanked the Hilton Garden Inn employees for showing an example to Zambians in supporting their fellow citizens to provide a better future for them.
"We want 'Strong Girls Strong Zambia', as World Vision, to be exactly where what you are doing is. You are bringing more Zambians to provide a better future for their fellow citizens. Those girls are at risk of child marriage or have been taken out of child marriage and are even more vulnerable at this point. And what your employees have said is that "we are on board with that," and this is an example that we really appreciate. Working together shows our deepening relationship, and it's a natural fit", he said.
Mr. Hasse added that the contribution of the employees of Hilton Garden Inn and their giving back makes a difference in girls' lives and gives them the future that every parent wants for their children.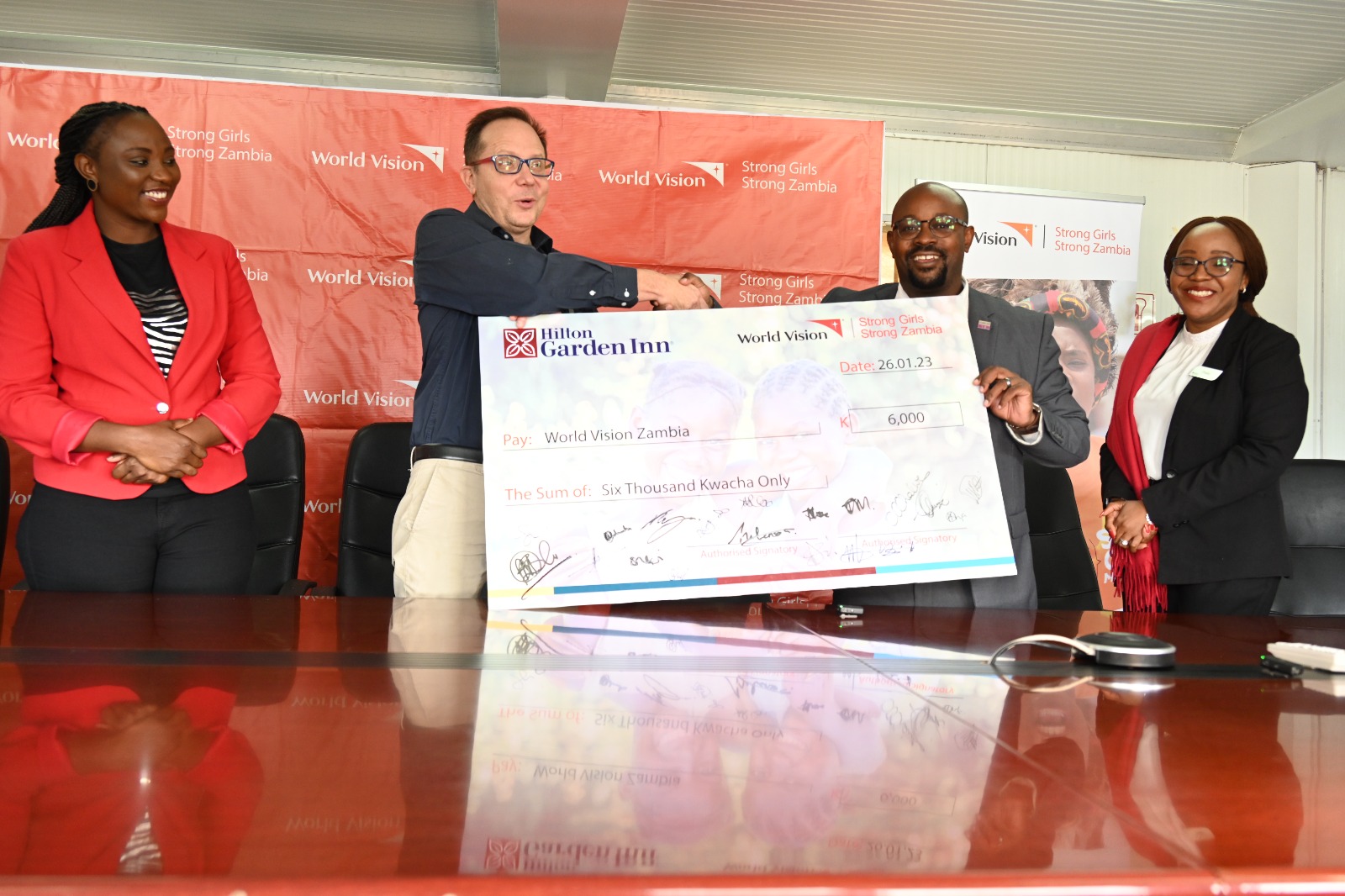 The 'Strong Girls Strong Zambia' campaign aims at supporting 6,000 vulnerable girls withdrawn from marriages with educational requirements, developing infrastructure in schools to provide a conducive learning environment that will keep the girls in school, and economically empowering 1,500 families of vulnerable girls and those retrieved from marriages by 2025, benefiting 7,500 children.