Gifts-In-Kind brings relief to people living with disabilities in Nyimba
By Angela C. Pakata

2023-02-08
Being a husband and father is a big responsibility for any man, but it becomes added responsibility and more like a burden if he has to take care of his physically challenged wife and son.
This is the case for 53-year-old Davison Phiri of Edward Village of Nyimba in Zambia's Eastern Province.
Davison is a father of three. He is a small-scale farmer and a small-scale entrepreneur. He owns a small grocery store locally known as Nthemba. In addition, he is a charcoal burner. He not only takes care of his 47-year-old wife, Gertrude but his 25-year-old son, Edward.
He also takes care of his old mother and three nieces whose mother died, and their father abandoned them to marry three other wives. His two daughters, Adessi, who is 28, and Memory, aged 24, are married and live in the same village with their own families.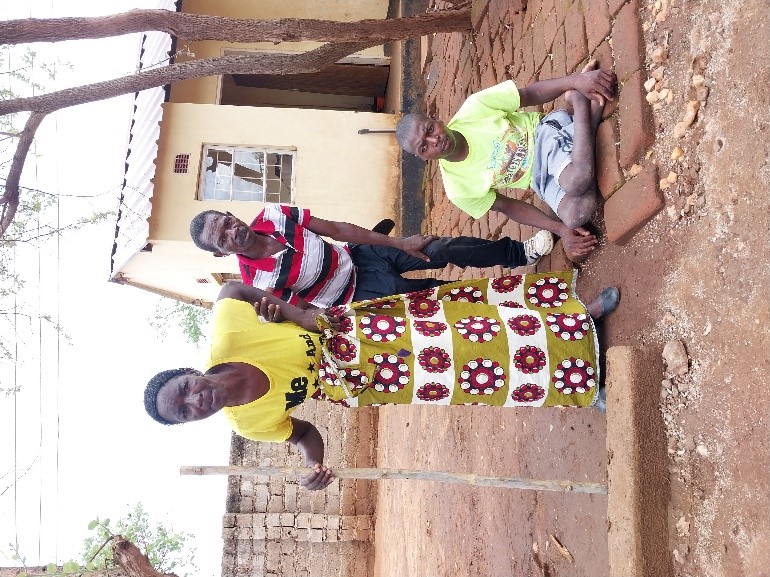 Davison and Gertrude lived a joyous life in the first five years of their marriage until 1997, when their son and second child, Edward, was born. Baby Edward was born healthy, but things changed when baby Edward fell ill in the middle of the night, right in the fields where they had camped during the farming season. Edward and his older sister, Adessi, were laid on a reed mat spread separately from their parents. But the couple was left confused when they heard a child crying from a distance of about ten meters from their shelter. Gertrude went to check where the two children were lying, and Davison rushed outside to check on the crying baby. Sadly, it was baby Edward.
The couple was immersed in fear and shock as they could not understand how the child found himself outside the shelter. In the morning, they returned to the village and explained their experience at the fields to the village people. They equally failed to understand and concluded that there was some witchcraft involved.
Since that time, Edward has lived a miserable life. His body could not function as normally as before. He was crawling, but he stopped after a prolonged illness. His lower limbs got paralyzed, and his growth was disturbed. He has challenges with his speech and takes time to respond when talked to. His father does everything for him.
I take him everywhere he wants to go. I have to carry him because he is grown now. He is too heavy to be carried by anyone in the family but me. He does not do any work.
Davison faced another challenge in 2017 as he was coming from Nyimba town with his wife to buy new stock for their shop when he saw his wife fall to the ground and could not speak.
"It was very strange for me, and I got confused, especially after pulling through all my challenges with my son. With the help of friends around, we rushed my wife to Nyimba General Hospital, where she was diagnosed with a stroke. She had stopped talking, lost feelings of touch and her memory too. We spent all the money we had invested in our shop and the money realized after selling charcoal on transporting my wife to physiotherapy at Nyimba General Hospital. I could not work properly because I spent most of the time nursing my wife and son," lamented Davison.