World Vision Zambia recognizes staff's FY22 performance
World Vision Zambia held an End-of-year staff meeting to review and celebrate the achievements scored in Fiscal Year 2022 at Gifts-In-Kind Warehouse.
At the same event, the organization recognized outstanding employees pursuing child well-being aspirations during 2022. Wanty Maposa scoped the Employee of the Year Award, while Eness Vapwa and Moses Samakayi were first and second runner-ups.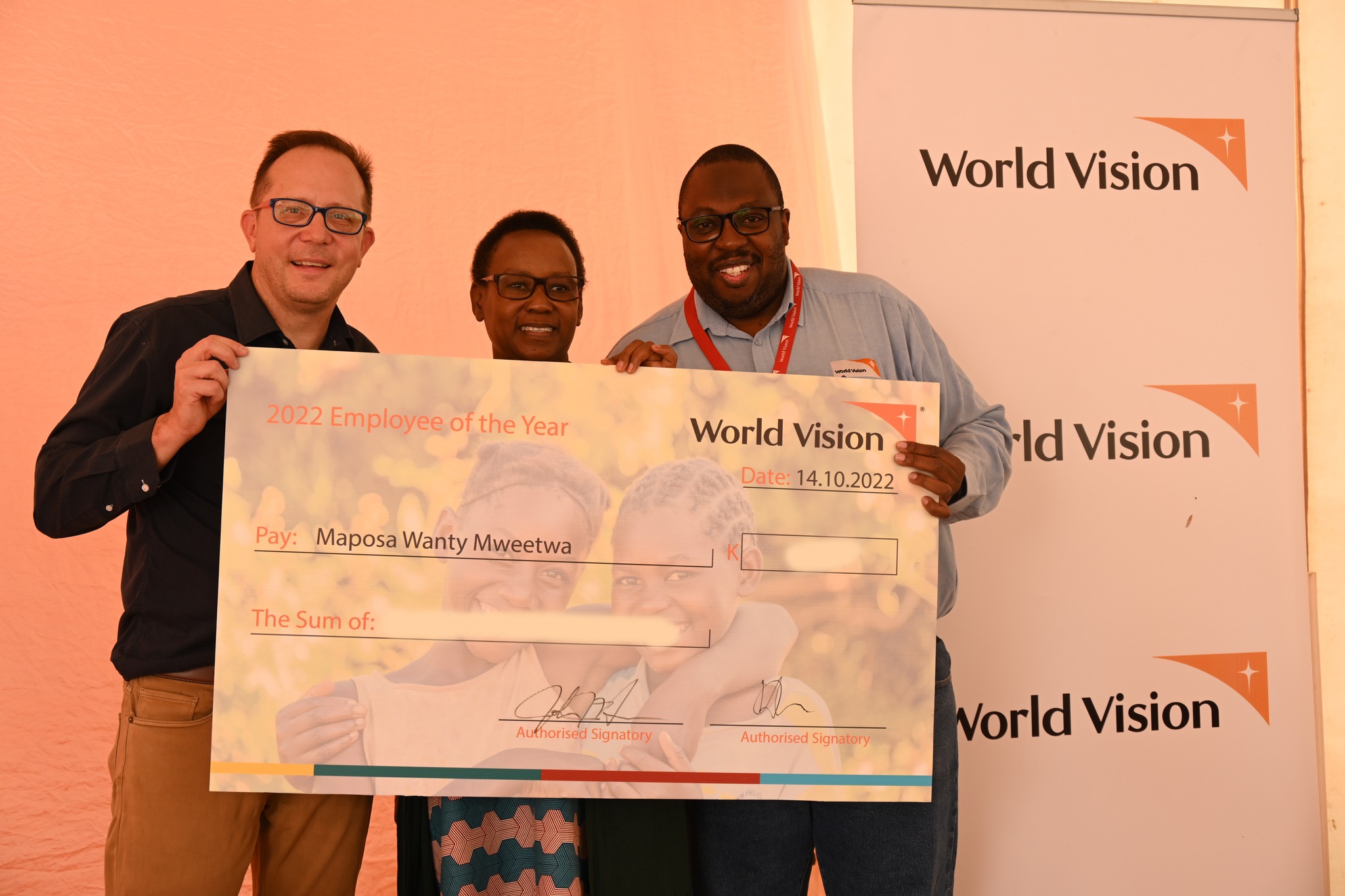 The employee of the year award was scooped by Survive to Thrive, Project Manager, Maposa Wanty Mweetwa, who walked away with a K5,000 (282.07 US dollars) cash prize and a certificate. Financial Accountant, Eness Vwapa walked away with a K4,000 (225.65 US dollars) cash prize and a certificate for being the first runner-up, while MEAL & Impact Specialist for education Moses Samakayi was second runner-up and walked away with K3,000 (169.24 US dollars) and a certificate. Technical Specialist for Business & Marketing, Lasford Moono, is the November Employee of the Month.
Survive to Thrive scooped the first position in the group awards, and Humanitarian Emergency Affairs (HEA) came out second. Several other individual performance awards were given out to deserving staff.
More than ten staff were also recognized for their relentless efforts and for upholding the organization's values in the execution of their duties.
Moses Samakayi, a recipient, said the awards motivate staff to work extra hard and encourage stewardship.
"The awards are a great way of motivating staff to continue working hard and smart. I personally feel appreciated and received a fresh impetus to provide better results.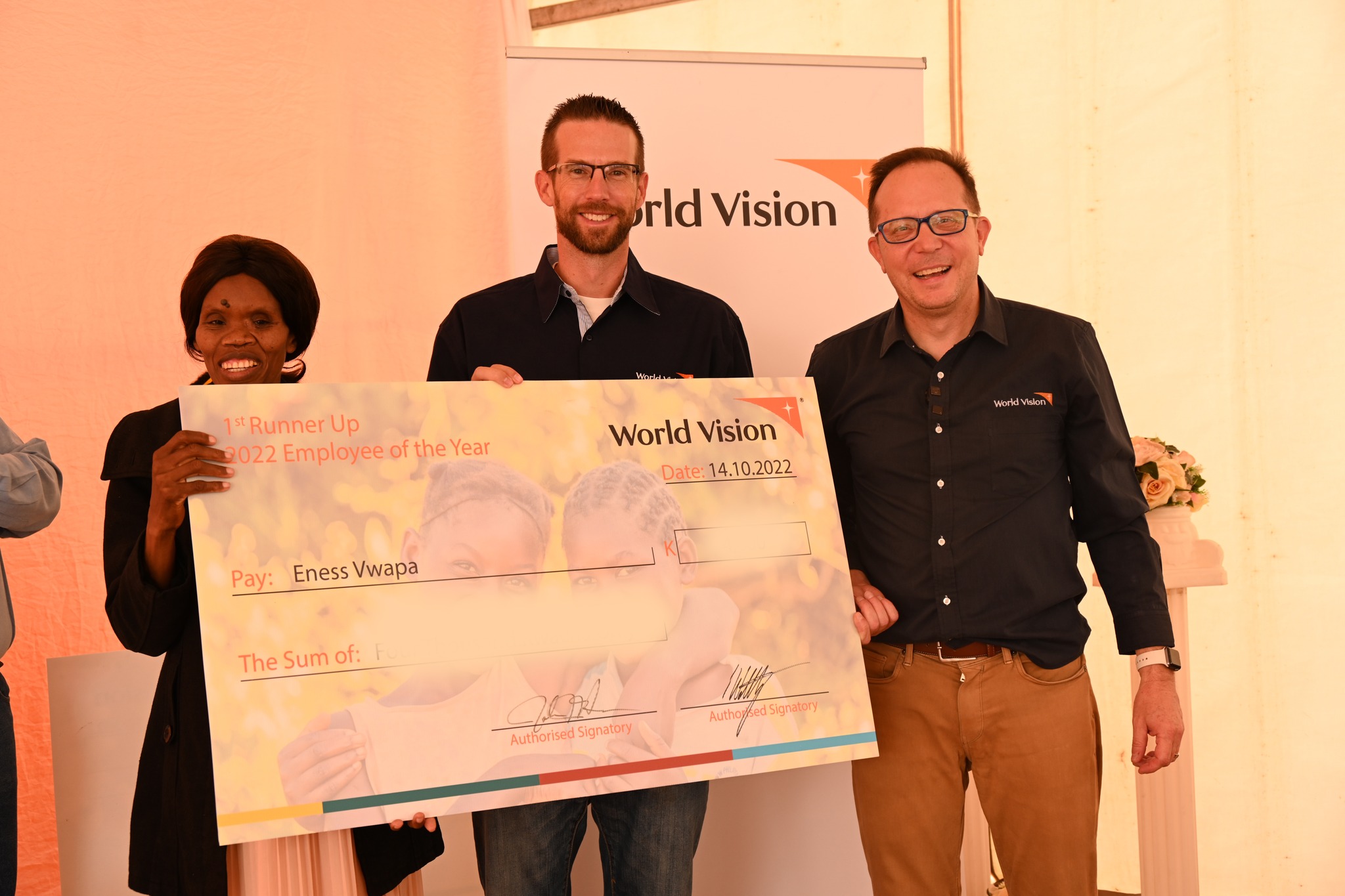 During the meeting, World Vision Zambia National Director John Hasse said the year was successful, with many positive strides and impacts in the community.
"200,000 Zambians received clean water for the first time in the last year through the WASH programmes. This brings the total to 420,000 in the last two years, which is expected to go up to over 800,000 in the next two years," said Mr Hasse. "230,000 learners in primary school were reached and helped to read through the education programmes. 14,000 families, mostly farmers, participated in farming groups, 70% of them women, and over 544 malnourished children were rehabilitated under the health programmes."
In addition, several articles were published in national and international journals from technical programmes showing their influence. Over 36,000 birth certificates were issued in FY22 because of World Vision Zambia's work in Northern and Eastern provinces.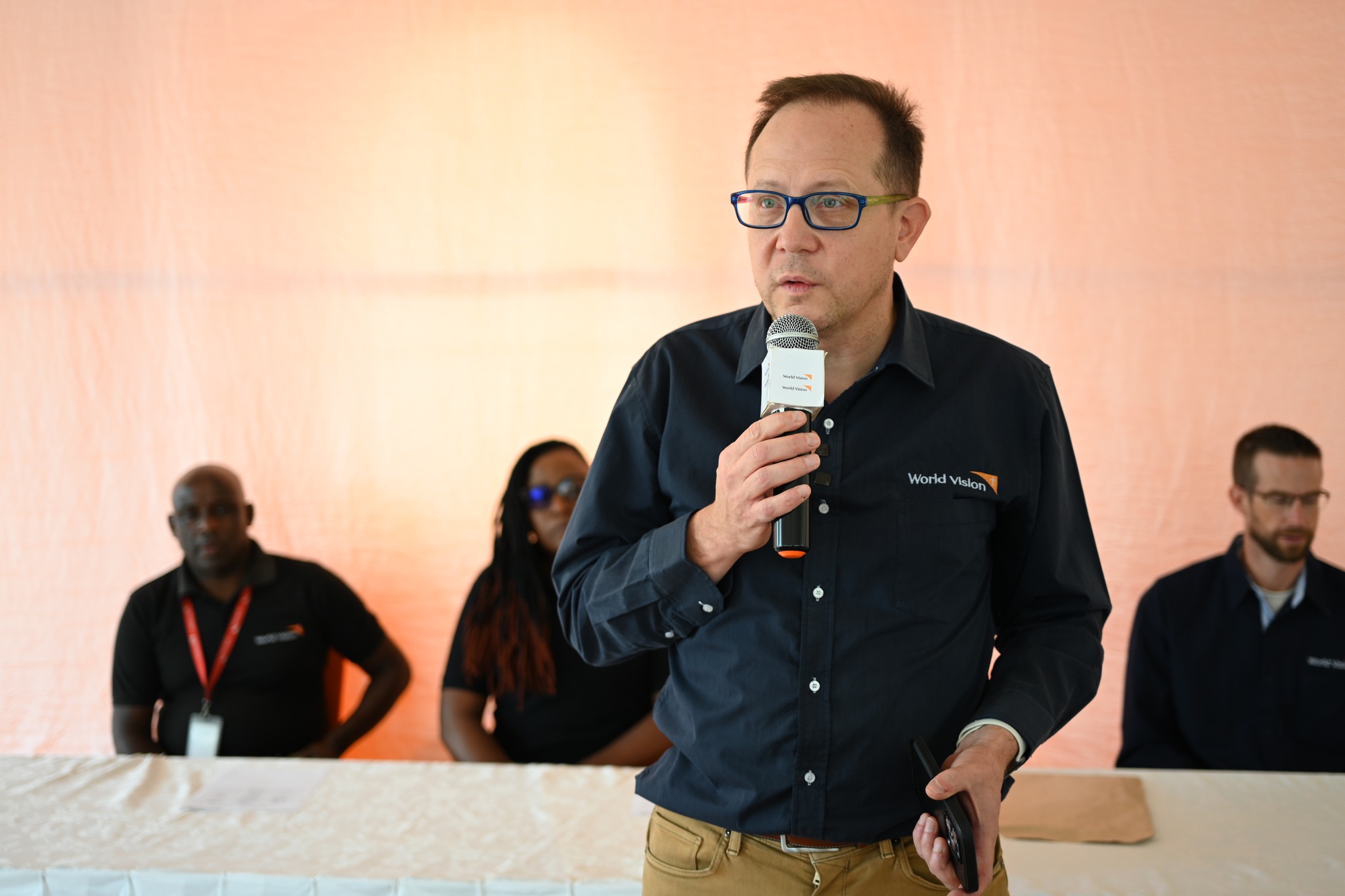 The National Director said he was excited about the advocacy programmes, such as the Africa Children's Parliament's inaugural co-hosting and signing of the Children's Code Bill into law.
"This is very exciting. We co-hosted the first-ever African Children's Parliament with children coming to Zambia from seven other countries. This was really interesting because it was part of the AU Heads of State mid-year summit in Lusaka. And something else that's taken a decade of our work through advocacy is that we were able to get the Children's Code Number 12 of 2022 passed. This is a combination of over 10-12 years of advocacy work", he said.
He disclosed that the Citizen Voice and Action groups mobilised over 10 million Kwacha of resources to build health facilities, school blocks, and wells as part of advocacy work to help develop communities and that World Vision Zambia has been providing clean water in all the refugee settlements in the country in the last couple of years.
Mr Hasse also shared about the 'Strong Girls Strong Zambia' that World Vision Zambia launched in September to raise seven and a half million dollars over three years to keep 15,000 girls out of marriage.
We've already gotten several organisations; Zanaco, and CFAO (what's known as Toyota Zambia), to come on board. ABSA has also come on board. We have several other partners, including mining companies, construction companies, and many others, come on board. And we, as staff, have contributed almost K28,000 (1,579.57 US dollars) towards the same project at Kampekete, which is part of the 'Strong Girls Strong Zambia' campaign.
He assured the board and staff at the meeting that World Vision in Zambia is not declining.
"There is always this concern that World Vision is shrinking. We are not. This is the trend. So here we are looking at 35 million dollars, and here is 43.2 million this last fiscal year. This year and next year look even better. Administrative costs in 2018 were at 12 per cent. This year we went to 8 and a half per cent. Because of the new (office) building (being constructed) has gone up by half. We hit 8 per cent, which is a good trend—representing a 33 per cent drop. That means we're giving more of the money. We're raising more money and making sure that more money goes to the programmes", he said.