Children in Zambia celebrate the Day of the African Child in style
By Kambani Phiri

2022-08-08
One of the main tenets of the Convention on the Rights of the Child (CRC) is that children and young people have the right to freely express their opinions, that adults have an obligation to hear those opinions, and that adults also have a responsibility to encourage children's participation in all decisions that affect them in their families, schools, local communities, public services, institutions, governmental policies, and legal processes.
During this year's Day of the African Child, themed 'Eliminating Harmful Practices Affecting Children: Progress on policy and practice since 2013, World Vision Zambia through the Campaign against End Child Marriage brought together children from Lusaka, Northern, Muchinga, Southern, and Central as a hosting province, who held numerous activities to address the challenges that they are facing in their communities, schools, and households. This was done to encourage child participation in decision-making and provide a platform for children's voices to be heard.
Children use radio to promote child protection
As a build-up to the Day of the African Child, when children throughout Africa take the stage to speak out for their rights, 12-year-old Ruth, 16-year-old Melody, and 17-year-old David were getting ready to host the "A Zambia fit for children" radio program series on Zambia's KNC Radio, one of the most listened to radio stations in Central province.
The three children had the ideal platform to discuss issues that were important to them, such as education, gender equality, online safety, and child abuse in communities, with hundreds of listeners each day.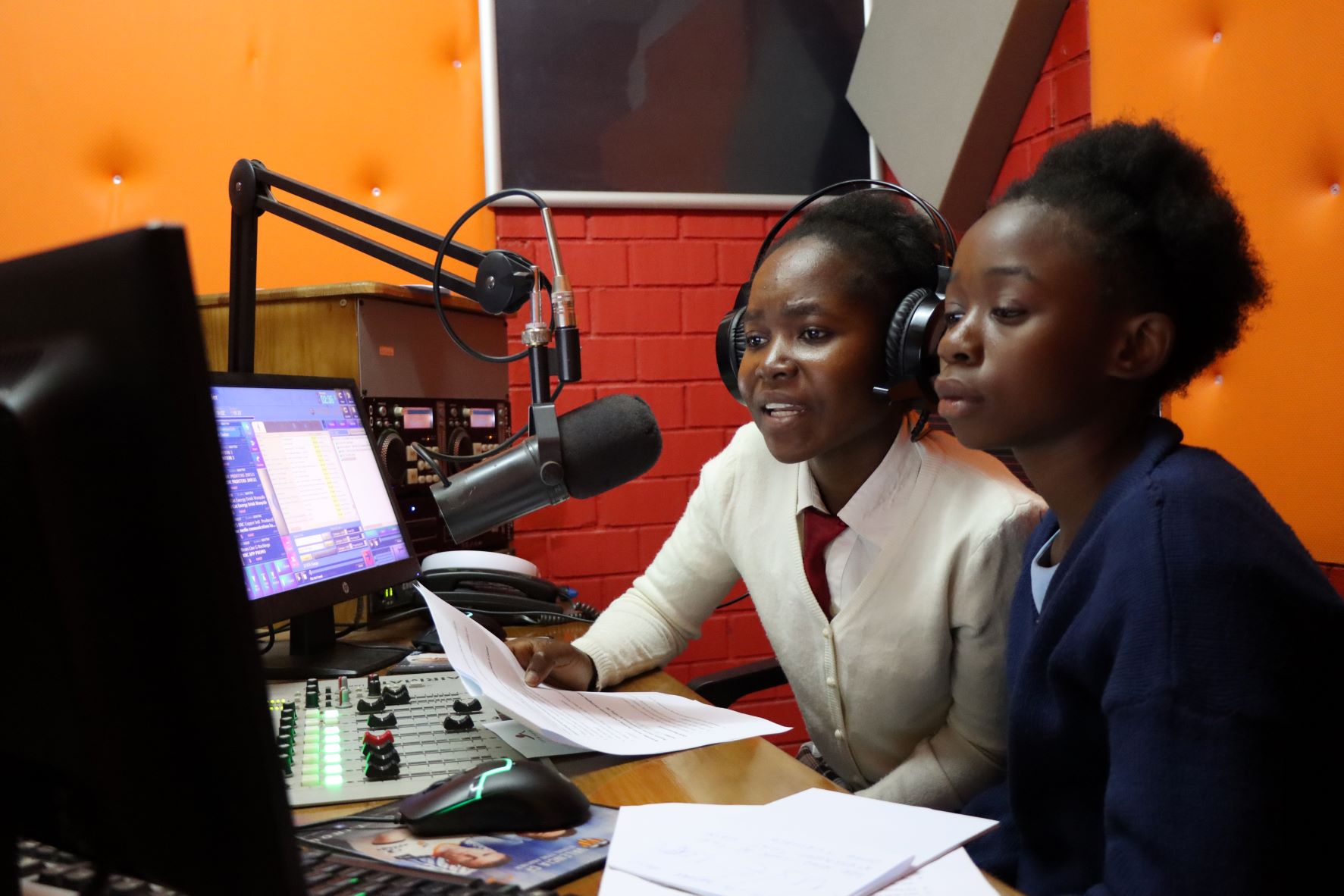 The World Vision Zambia-sponsored Live phone in the program was designed to give kids a forum for conversation and engagement with district-level officials.
The Zambia Police's Victim Support Unit, the District Child Protection Committee, and the Provincial Child Development Office all participated in the radio programs, and the Musosolokwe Area Program children played key roles in their facilitation.
Ruth 12 expresses her excitement about being a part of the program. "This is my first time being on the radio, and I could only dream of being on-air," she says. "At school, I used to act out a lot of role-playing scenarios where I would interview my friends as if I were a radio host. I have the rest of my life to treasure these memories."
David, 17, added that his time on the radio gave him the chance to speak to many people about the risks that children face in their communities.
"Because I knew so many people would be listening, I was initially anxious," David recalled. "But for the same reason, I was thrilled. We had the opportunity to use this platform to communicate with a huge audience. As we celebrate this Day of the African Child, we children need to be responsible and work with leaders to create a Zambia and Africa fit for us."
Children call for improved budget allocation
World Vision Zambia working with Plan International Zambia provided children from the aforementioned five (5) provinces a platform to interact with the Central Provincial administration on June 16, 2022, which was led by Mr. Milner Mwanakampwe, the Permanent Secretary.
To guarantee that children receive the social needs for their well-being, the children demanded an increase in budgetary allocation in the national, provincial, and district budgets.
By including children in the national budget, 16-year-old Lumbiwe, from Southern Province urged community members and leaders to support children in obtaining their full range of rights, particularly those related to education.
"We must be included in the annual budget in order for us to be fully protected and taken care of. We want to be a significant sector that receives funding to address our needs rather than being placed under allocations that prioritize meeting the needs of adults before those of children," she said.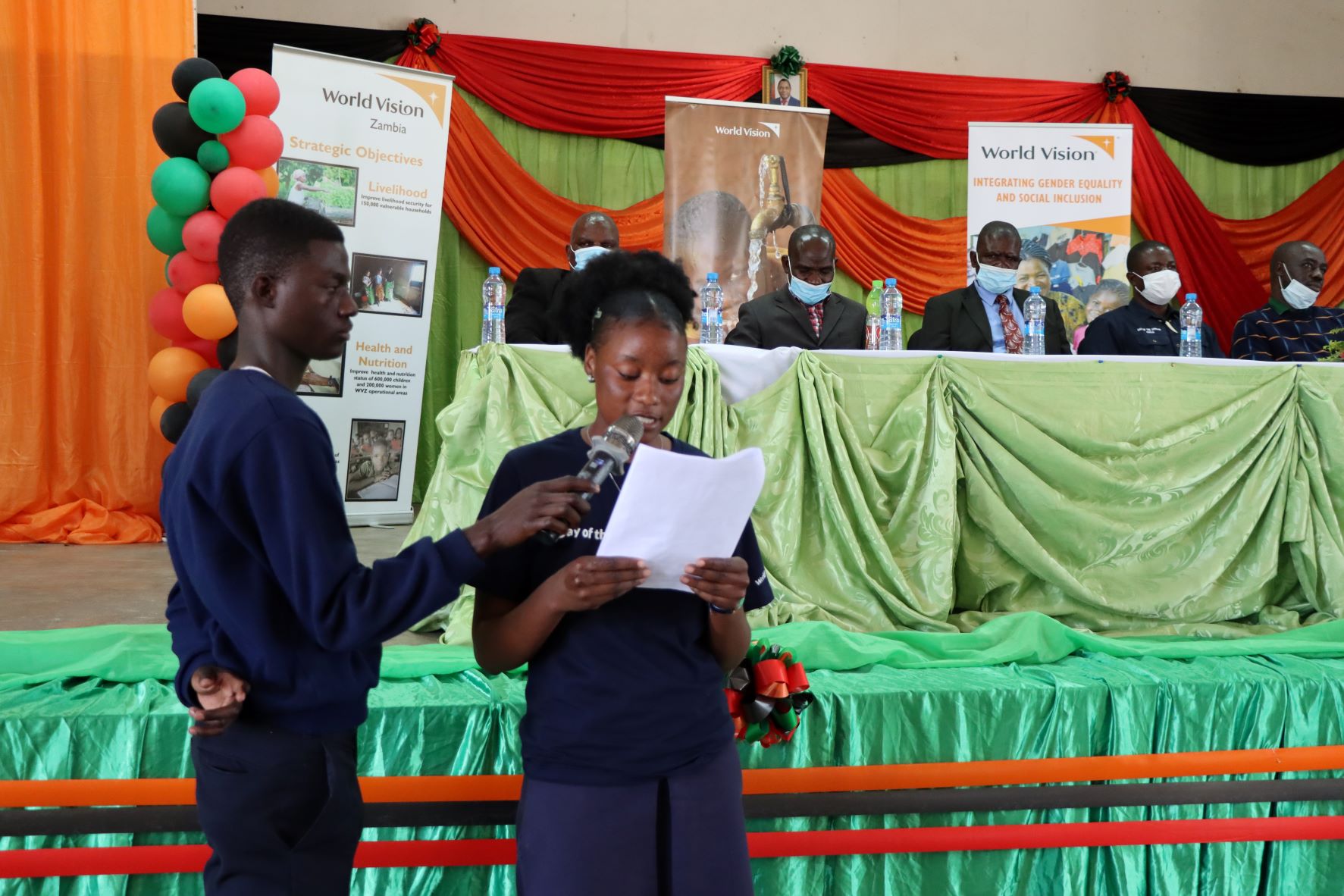 "We are grateful that the government adopted the Free Education policy, which has made it possible for the most at-risk children, particularly girls, to attend school. However, the infrastructure in schools, particularly those in rural areas, is insufficient to handle the large number of students enrolled. We, therefore, urge the government to create more classrooms, laboratories, and computer purchases in order to create an environment that is conducive to learning."
Lumbiwe expressed gratitude on behalf of her fellow children for the gesture by the Government to address issues surrounding girls by passing the law to provide sanitary towels to girls in rural areas as a way of keeping girls in school.
"We are thankful for the law on free sanitary distribution, however, to state that not much of this goodwill is happening in our schools. We still see many girls staying away or going away from school due to the unavailability of sanitary towels," she says. "Permanent Secretary, Sir, each day we wake up as children, the story is about children being defiled, impregnated by their own father, uncle, grandfather, brother, cousin. The entire system fails to protect them. We do recognize there are child protection laws in this country, however, we demand enforcement of these laws and strengthening of the referral and reporting systems at the village level."
Lumbiwe also urged her fellow children to play their roles and show that they are ready by being responsible and respectful to elders and others.
Through the Central Province Permanent Secretary, Mr. Milner Mwanakampwe, the Government of the Republic of Zambia reaffirmed its commitment and desire to provide a conducive environment and enhance child protection in schools and communities.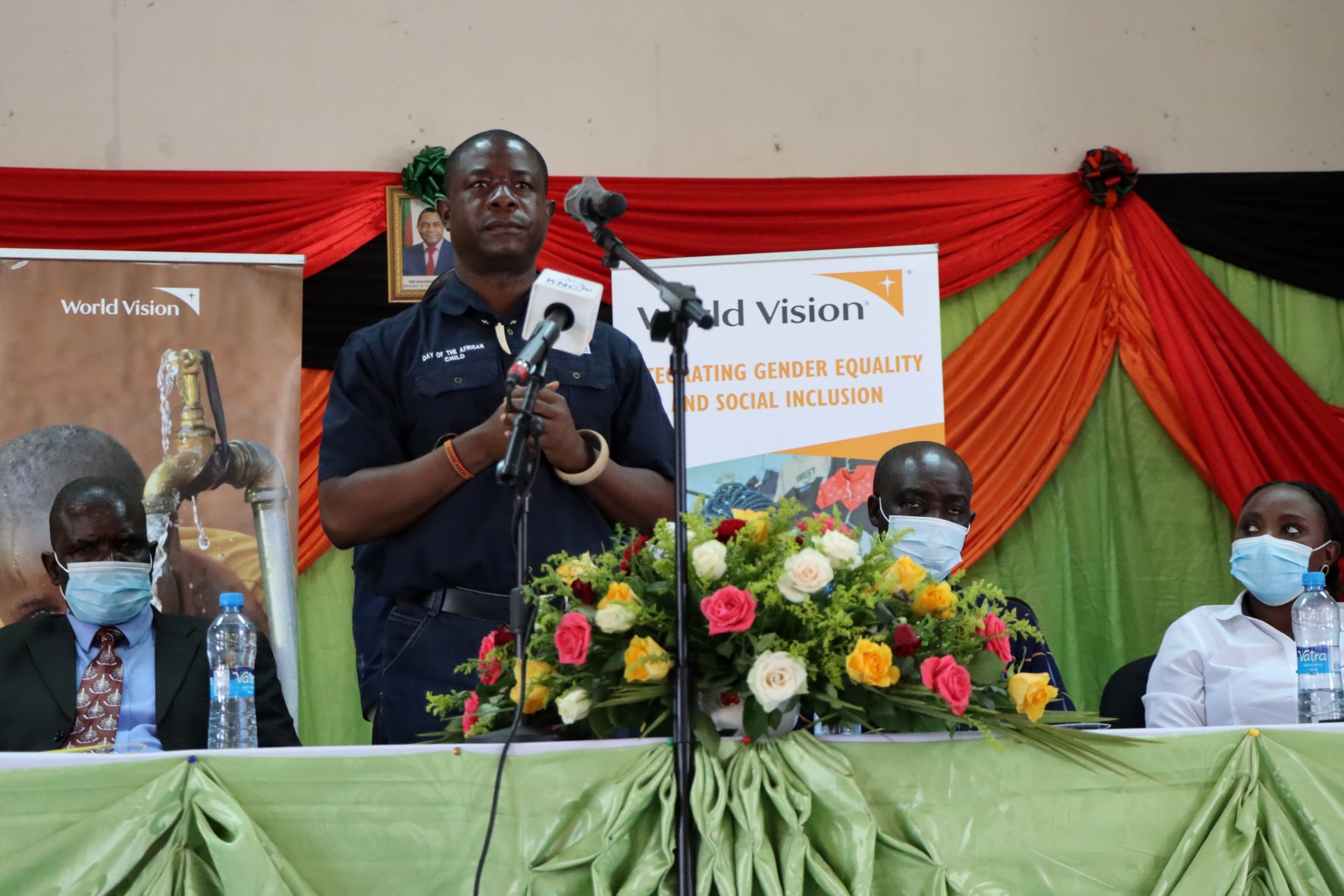 "As a Government, we are doing everything possible to ensure children are well provided for. One of the clear pieces of evidence is the free education policy, with this in place, I can say children have already a budget because you are all in school without paying anything other than buying your uniform and books and paying boarding fees for those in boarding," said Mr. Milner
The Permanent Secretary called on the children to show that they are ready to lead alongside the leaders.
"Children must be responsible for them to show that they are ready to fully use the conducive environment called for. Children are also a problem, you invite problems upon yourselves because you think you know it all," says Mr. Mwanakampwe. "The duty is for all of us including yourselves, to show us that you are ready to be leaders of today and not tomorrow because you have the power to influence decisions but this will be done if you show that you are responsible."
And World Vision Zambia Representative Associate Director for Advocacy, Dr. Carol Mweemba said children are key partners in communities.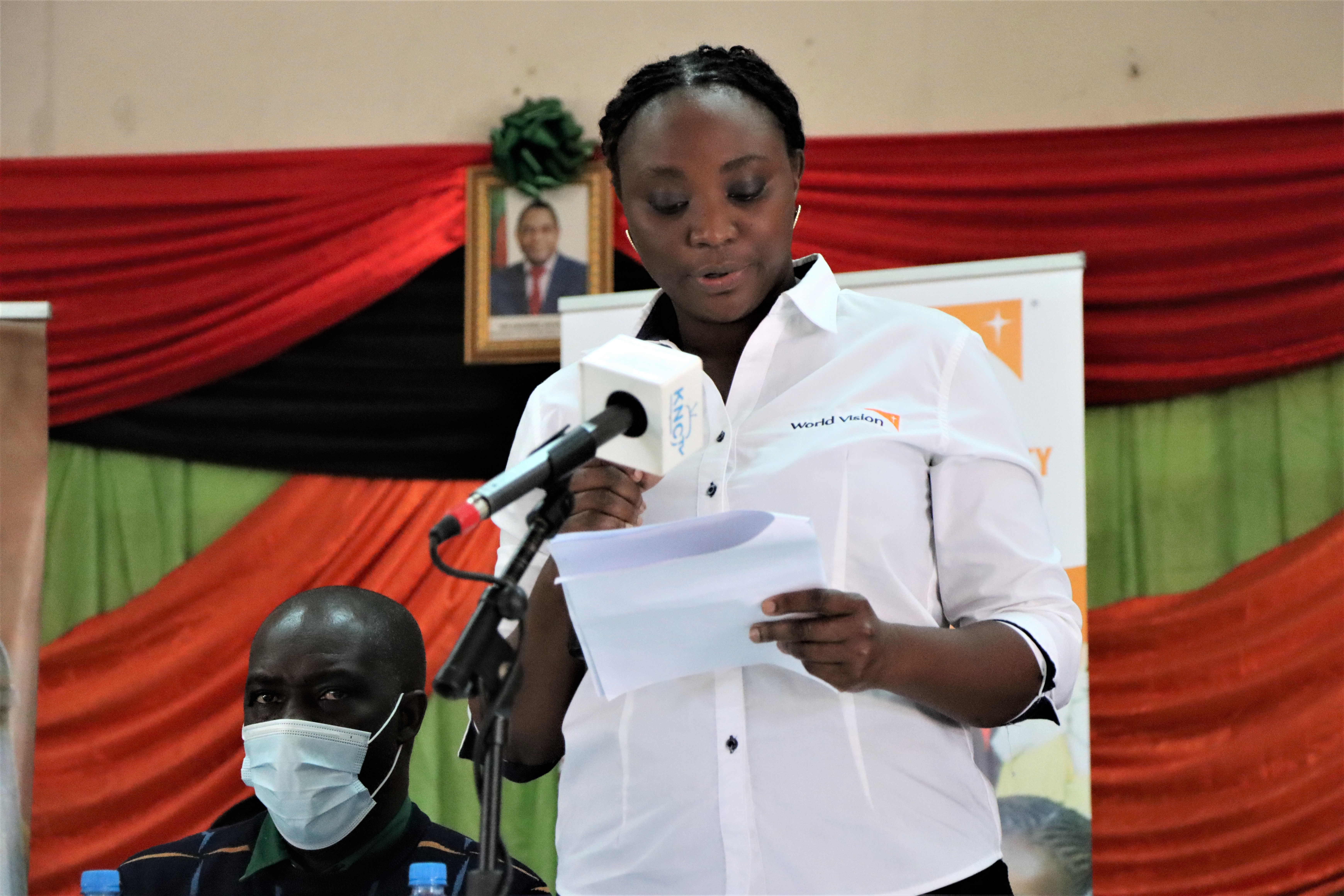 "At World Vision, we consider children's meaningful, safe, and appropriate participation a key strategic priority for ensuring sustained child well-being and creating democratic societies with informed and engaged citizens," said Dr. Mweemba.
She said World Vision believes that children play a significant role as agents of transformation with the capability to engage in decision-making processes, in accordance with their evolving capacities and gradually increasing autonomy.
World Vision Zambia's Goodwill Ambassador B Flow's appearance during the DAC elates children
World Vision Zambia's Goodwill Ambassador, Brian Bwembya famously known as B Flow made a surprise appearance during the commemorations of the Day of the African Child held at Kafushi Boarding Secondary in Keembe Area Programme of Chibombo district in Central Province.
The children were ecstatic when he appeared on stage because they could not believe what they were seeing.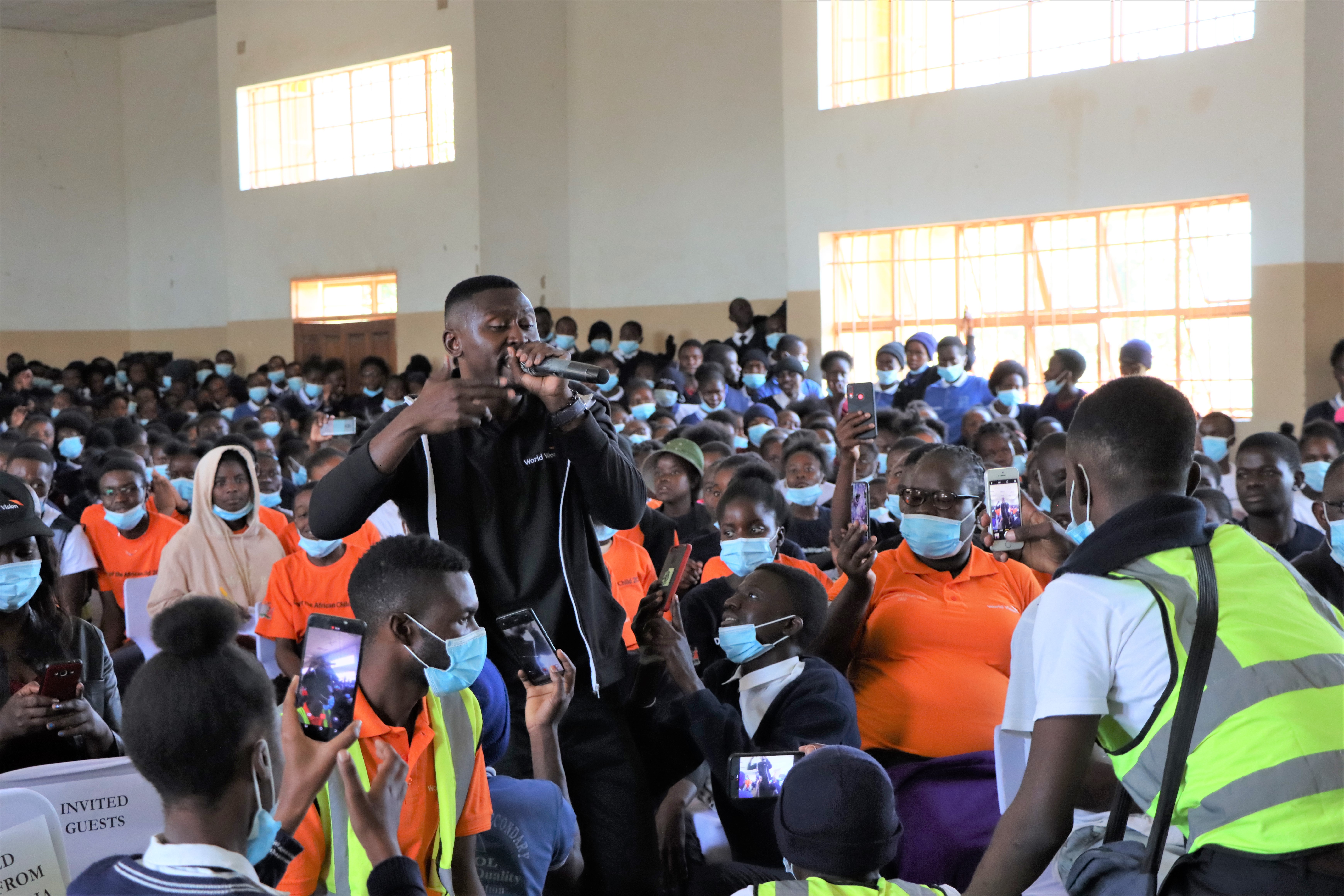 Nthalasha, a 15-year-old from the Northern Province, claims, "I only watch him on TV, but today I watched him live to perform, something that I could have not have imagined."
The appearance of B Flow, according to 17-year-old Necto from Muchinga Province, was like the cherry on top of the fantastic build activities.
"As we return to our respective provinces, we have tales to share. I, along with many other children, have never had the chance to see a celebrity up close. I am overjoyed, and I will always cherish the memories of Central Province," he said.
Meanwhile, B Flow urged children to have a vision and role model to motivate them to achieve their goals.
"In life, your background does not matter, what is important is your determination and focus because you can achieve anything and become anyone you want to be," said B Flow. "My father died when I was a young boy, and life was very hard, at some point I had to sell sweets. But I used this situation to motivate myself because I knew that the power to move out of poverty was in my hands, so I worked extra hard to achieve my goal."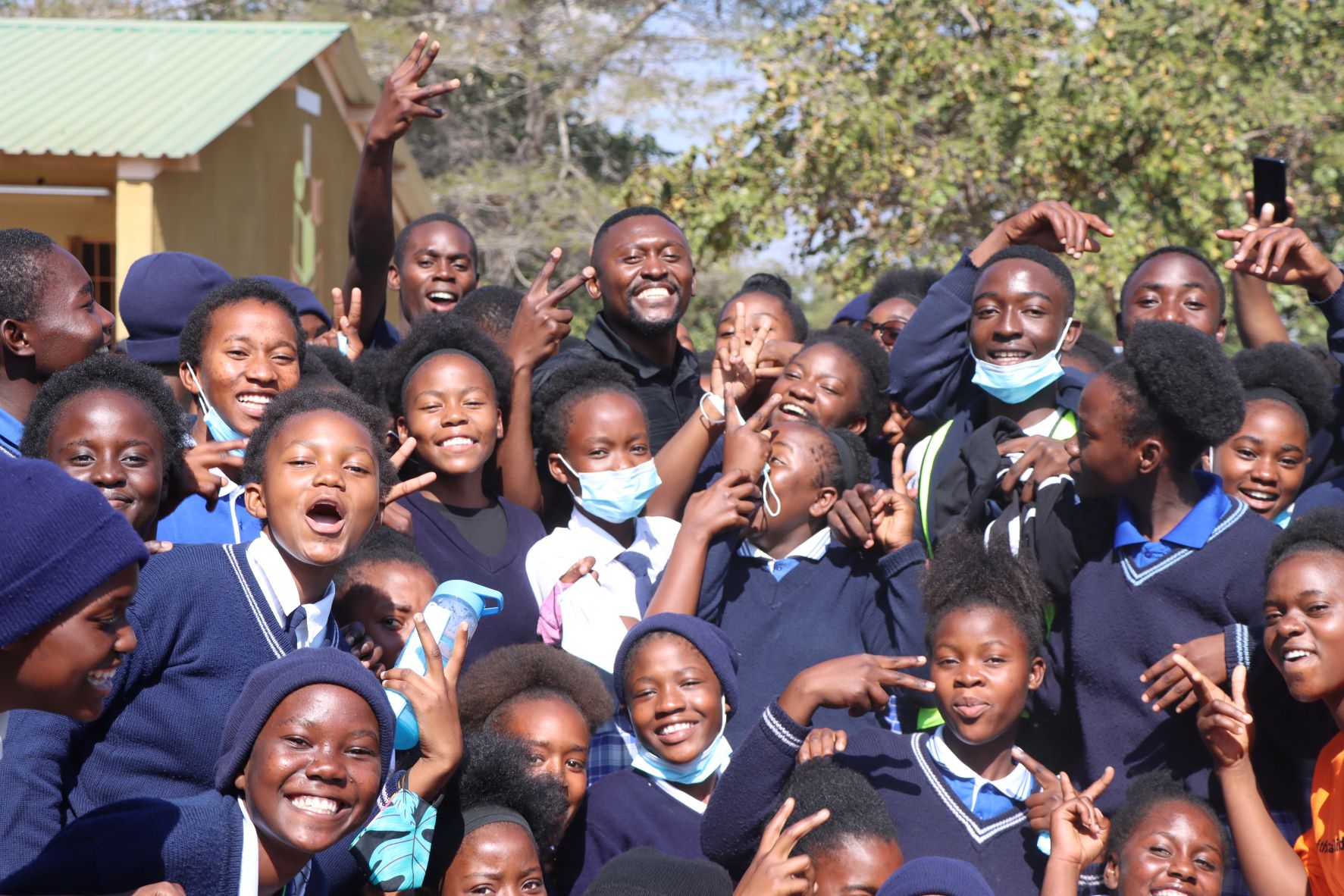 - END -