Toyota Zambia and World Vision Handover classroom blocks to Zambian Government
By Kambani Phiri

2021-04-20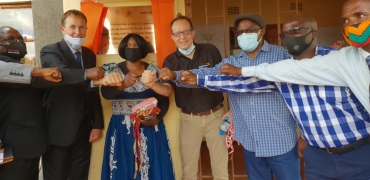 Toyota Zambia in partnership with World Vision Zambia, has handed over newly constructed and rehabilitated classroom blocks and one menstrual hygiene facility at Milando Primary School to the Ministry of General Education in Mungwi district. The infrastructure valued at US$ 61,335 includes, a rehabilitated 1x2 classroom block, two newly constructed 1x2 and 1x3 classroom blocks, and one menstrual hygiene facility.
The school which was constructed in 1975, has not had any new additions to its infrastructure. For the past 44 years, the school only had two classroom blocks (1x2 and 1x3), catering to all seven grades. This infrastructure could not meet the high demand for education services needed by the eight surrounding villages.
Toyota Zambia initially funded the rehabilitation of a 1x2 classroom block and construction of a new 1x2 classroom block to replace the dilapidated 1x3 classroom block which was on the verge of collapsing. This, however, could not solve the problem of overcrowding in classrooms. In the second phase, the 1x3 classroom block was constructed to create more space and contribute to the students' conducive learning environment.
A menstrual hygiene management facility was also constructed to provide girls with the much-needed environment supporting menstrual hygiene management (MHM) to ensure regular school attendance and participation.
Speaking at the handover, Northern Province Minister Hon. Lazarous Chungu, represented by the Provincial Permanent Secretary Mr. Royd Chakaba said good infrastructures are prerequisites for quality education, which is vital for national development.
"We are grateful for this gesture from Toyota Zambia and World Vision Zambia, these infrastructures provide a conducive learning environment for pupils, and the Menstrual Hygiene facility will play a vital role in keeping girls in school. This will result in having more educated citizens who will contribute to the country's development," said Mr. Chakaba.
And His Royal Highness Paramount Chief Chitimukulu of the Bemba Speaking people urged the community to look after the school infrastructure.
"We used to know Toyota for vehicles, but we are seeing the other side of them. World Vision Zambia has been a key partner in fostering development in my area. These infrastructures are ours, let's guard them jealously for it to last long and benefit the future generation," said Chief Chitimukulu.
Commenting at the handover, World Vision Zambia National Director John Hasse said the collaboration between Toyota Zambia and World Vision symbolises the organization's core value of 'we are partners' in taking development to the vulnerable children and their communities.
"We want to see all children in Zambia have the opportunity to receive a quality education that will prepare them for the opportunities and challenges of the future. In partnership with Toyota Zambia, we ensure that children who attend school at Milando Primary School are learning in a favourable environment. This infrastructure will benefit 532 pupils at the school," said Mr. Hasse.
Toyota Zambia Managing Director Mr. Dino Bianchi said, "this project has raised Milando Primary School to be a model School with a hygiene washroom facility to ensure girls at the school have appropriate sanitary facilities and encourage continued attendance during lessons at school. This project also established classroom libraries stocked with developmentally appropriate materials to encourage both girls and boys to participate in library activities to promote a reading culture among learners."
"This school will provide a conducive, safe, and dignified learning environment for all learners, especially the girl child who will now have a facility that supports their needs. Toyota Zambia remains committed to working with partners like World Vision and the Government to achieve the Sustainable Development Goal number 4, which seeks to ensure inclusive and equitable quality education and promote lifelong learning opportunities for all," Mr. Bianchi added.
The event was attended by the District Chairperson, Provincial Education Officer, District Education Board Secretary, Toyota Zambia, World Vision Zambia, and a few community members.